A new exhibition at the Royal College of Physicians and Surgeons of Glasgow, Our Science and Art: Visualising the Human Body, shows how technologies for seeing (and seeing inside) the human body have evolved from the 16th century to the present day. Looking at changes in medical illustration, and imaging and visualisation techniques, we can see how improvements in representing the 3D human body on the 2D page or screen have led to significant advances in medical and surgical care. The first image to greet visitors – the colourful, wireframe skeleton shown below – is based on a woodcut illustration from Vesalius's Fabrica, and is an attempt to visually tie together the illustration and visualisation techniques of the 16th and 21st centuries.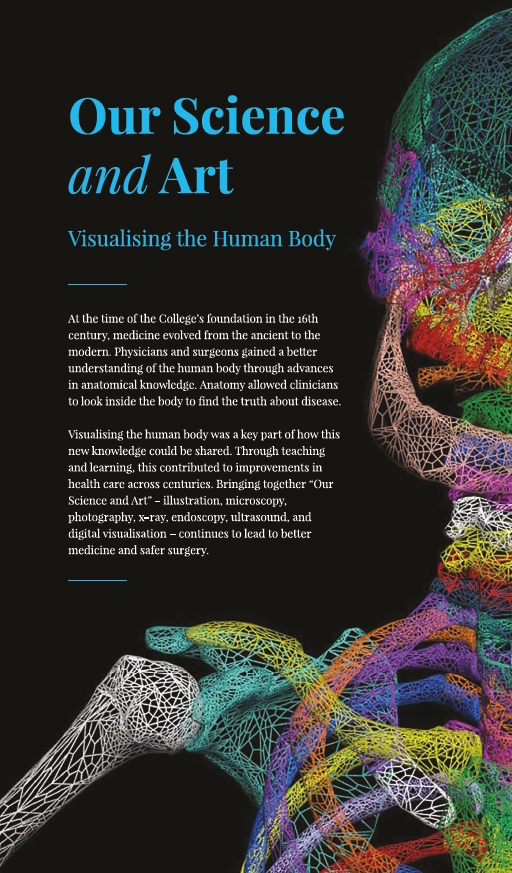 The exhibition features items from across our heritage collections, including rare books, archival documents, and museum objects. All the items in the exhibition have important stories attached to them, but it's particularly gratifying to finally be able to display some early X-ray tubes from Glasgow Royal Infirmary's radiology department. This department, headed by College Fellow John Macintyre, was the first of its kind in the world, and we are exceptionally lucky to have these objects in our collection. The tubes are fragile and difficult to display, and we believe this is the first time they have been exhibited in this way in almost a century.
The College became an accredited museum in 2015 and, thanks to funding assistance from Museums Galleries Scotland, we were able to refurbish our exhibition space in 2017. We now have several museum grade display cases, and are able to exhibit items from our collections which have never previously been on display.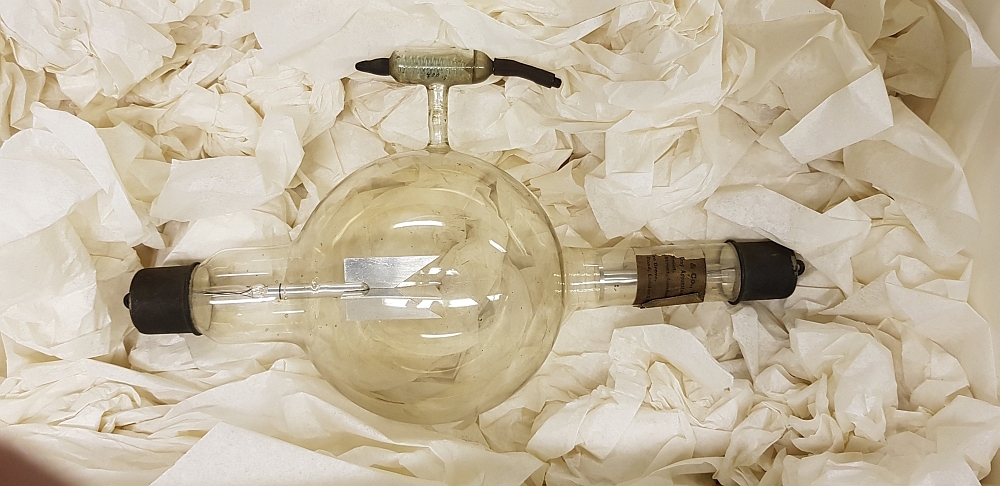 Our Heritage team includes four members of staff, all of whom worked together on this exhibition: selecting items for display, designing digital content to complement the displays, and writing interpretation text for the objects. We also worked with a few different external parties to make adjustments to display cases, create mounts for individual objects, and design the graphics for interpretation panels. We're especially pleased with the new graphic for our "impact wall", which you can see being installed below.
This large, blank wall is a perfect place to showcase an important image from the exhibition, and we have chosen to highlight one of the beautiful "muscle man" woodcut illustrations from our copy of Andreas Vesalius's De Humani Corporis Fabrica (1543). Placed side by side, the full-page woodcuts give a panoramic view of the countryside in the Euganean Hills near Padua, where Vesalius was Professor of Anatomy. With some Photoshop trickery we have stitched three of the backgrounds together, giving this particular model some additional room to flaunt his musculature.
In addition to this striking image, we also have the book itself as the centrepiece of the exhibition. The Fabrica represented a huge step forward in our understanding of anatomy, and presented some of the most scientifically accurate depictions of the human body to date. Our particular copy was well read and annotated by its first owner, a Professor at the University of Wittenberg, where Vesalius's advances in the study of anatomy were very well received.
Glasgow has been home to a number of important advances in medical imaging, such as John Macintyre's x-ray department, and the development of clinical ultrasound, and we've tried to reflect this in the exhibition. Part way through our planning stage, we received a very timely donation to the College archive: a copy of a short film made by obstetric ultrasound pioneer and College Fellow Ian Donald, in which Donald demonstrates and explains some of the earliest clinical ultrasound equipment. Although the film wasn't part of our original display plan, we decided to prepare an edited version which helps to expand on the story of ultrasound as a clinical imaging tool, and it can be viewed in the exhibition area.
The exhibition is part of Thinking 3D. Read more about the final result on the exhibition's dedicated webpage.
Our Science and Art: Visualising the Human Body runs from September 2018 until July 2019 at the Royal College of Physicians and Surgeons of Glasgow. Visit our website for visiting information and opening times. We also have a number of events planned for the remainder of 2018, and more to be announced for 2019. Check our events page for more details.